Senegalese-German Centre for Jobs, Migration and Reintegration (CSAEM)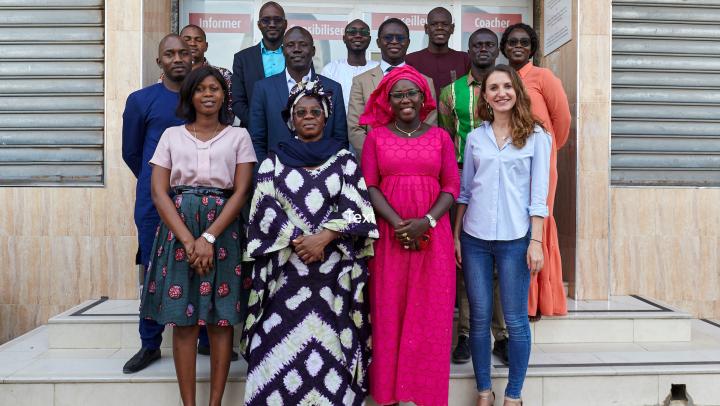 Are you looking for a new professional perspective? The Senegalese-German Centre for Jobs, Migration and Reintegration supports you in this. It is open to everyone. Here, you can get advice on the following:
Work and training opportunities in Senegal
Support for people who have returned to Senegal
Support in setting up your own business through training and qualification.
Regular migration to Germany
Work and training opportunities in Germany
You can come and talk to our staff at the Centre in Dakar. Or you can ring them, or ask questions by email.
If you would like to make an appointment to come and talk to one of our staff, please arrange a date and time with them in advance. Advice is free-of-charge.
We also offer regular trainings on various topics such as entrepreneurship, job search or job mobility. Our trainings are also free of charge.
Our Advice Centre works closely with the following organisations:
ANPEJ: Agence Nationale pour la Promotion de l'Emploi des Jeunes – National Youth Employment Agency Senegal
DGASE: Direction Générale d'Appui aux Sénégalais de l'Extérieur – Directorate of Senegalese Abroad
OFII: L'Office Français de l'Immigration et de l'Intégration – French Office of Immigration and Integration
International organisations (such as UNHCR, AECID, UNESCO and IOM)
German organisations (such as the German Embassy, the German Academic Exchange Service (DAAD) and the Konrad Adenauer Stiftung)
Non-governmental organisations (such as ASADIC TAATAAN, ACTED, COFLEC – Collectif des Femmes pour la Lutte contre l'Emigration Clandestine au Sénégal, CONFESEN, fka - House of Hope)
News from our Facebook page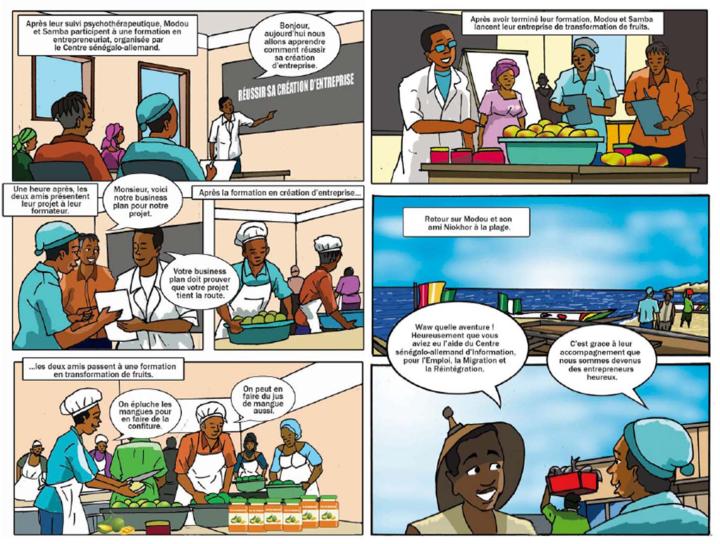 Clandestino – a comic dealing with the risks of irregular migration and the opportunities available in Senegal
Clandestino tells the story of Modou and Samba, two Senegalese friends who emigrate to Europe by boat. But their hopes of finding a better life there are soon dashed. The two friends ultimately decide to go back to Senegal and become self-employed. The Senegalese-German Centre for Jobs, Migration and Reintegration (CSAEM) in Dakar helped them to do just that. Both of them managed to realise their dreams of starting their own businesses back in their home country.
Clandestino is a joint production by the Senegalese agency Créatif Pencil and the Senegalese-German Centre.
Learn more >
This link opens a YouTube video. Please note the data protection regulations vaid for this site.
Confirm
Video: How we help you to return to your home country
Returning home and reintegration in achievable steps. You will learn:
how you can plan your return to your home country even while still in Germany
and the opportunities for help that are available.
You will see
who will advise you locally after you arrive back home, so that you can turn your plans into reality and make your new start.