Dear Startfinder users, we're constantly working to ensure that what we offer on our platform is even more appropriate to your needs. We'd therefore be grateful if you'd answer some questions about how useful Startfinder is for you. It should only take a few minutes. Any information you provide will of course remain anonymous. Many thanks!
Nigerian-German Centre for Jobs, Migration and Reintegration (NGC)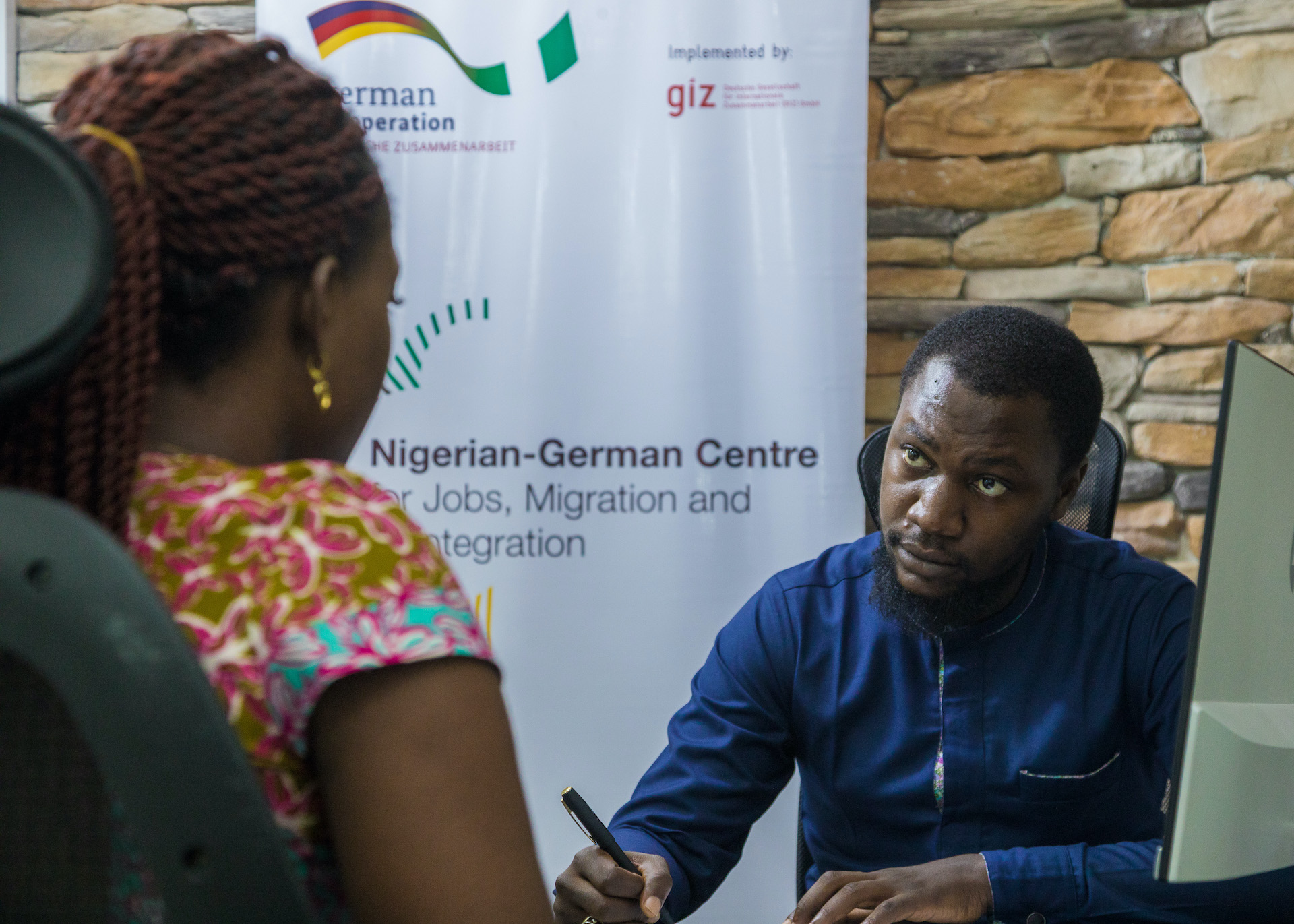 The Nigerian-German Centre for Jobs, Migration and Reintegration is open to everyone. We are there to assist if you are returning to Nigeria or if you live in Nigeria. You can receive information and advice on the following:
Job opportunities and training in Nigeria
Starting afresh in Nigeria if you are returning
Options for regular migration to Germany
You are welcome to visit the centres in Lagos, Abuja or Benin. It is best to arrange an appointment in advance, so that we have enough time for you. You can also call our advisors or send them your questions via email. You do not have to pay for this advice.
We can support you in developing job prospects and refer you to employers. Implementing your project ideas is also something we can help you with. We can gladly refer you to our partner organisation if you are seeking temporary accommodation after returning to Nigeria. You can also reliably turn to us if you are seeking psychosocial support.
The advice centre and its partners jointly arrange information and training events. We also help you find a job. Several training courses have been developed for this:
Career path training: this 2-day course improves your chances of finding a job. You are helped to recognise and describe your strengths. And you learn about entrepreneurial thinking.
Entrepreneurial cycle training: this programme helps you if you want to start your own company. You learn in very practical ways how to run and successfully manage a company or business.Short term technical trainings address a wide range of professions and business areas. These include craft activities such as shoemaking, bakery or sewing face masks as well as work in the service sector, for example in fashion design or website programming. We prepare you specifically for starting a job or founding a company in these areas.
In addition, together with our partners, we offer numerous other trainings, including digital training formats on digital topics. These include webinars on topics such as artificial intelligence, app development, digital marketing, block chain and cyber security.
News from our Facebook page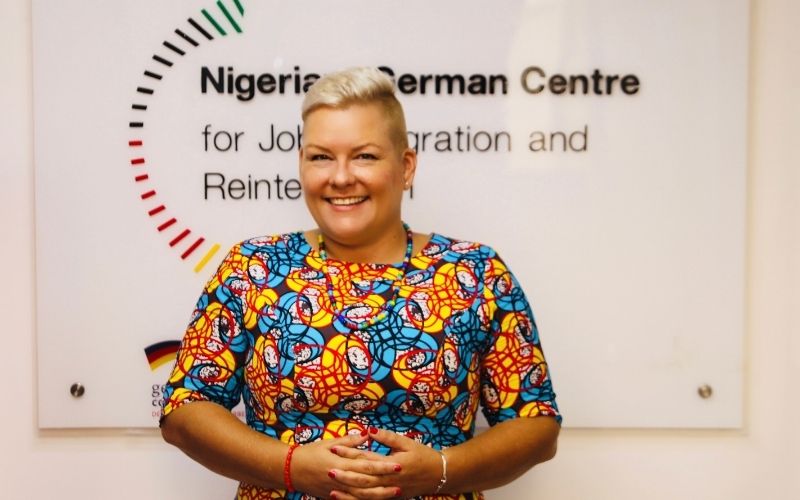 Individual Counselling
We have different target groups – these include unemployed young people, refugees within their own country and returning migrants. The services that we provide are tailored to their individual needs: psychosocial support, social integration, but also help for returning migrants in finding temporary accommodation and with any possible health issues. We offer a range of training courses to help people integrate back into society and the workforce. Here they can get the training they need to start out in a new career or learn new skills, for example in information and communication technologies.
Further information >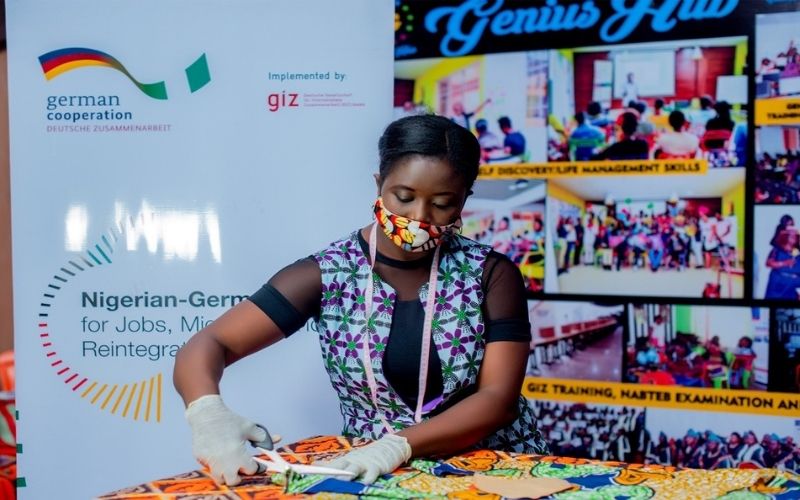 Training & Support
Cynthia was planning to open her own fashion store in Nigeria – then along came the COVID-19 pandemic. Now Cynthia is sewing face coverings, but this public order gives her some financial security even during the crisis.
Lesen Sie hier mehr dazu. >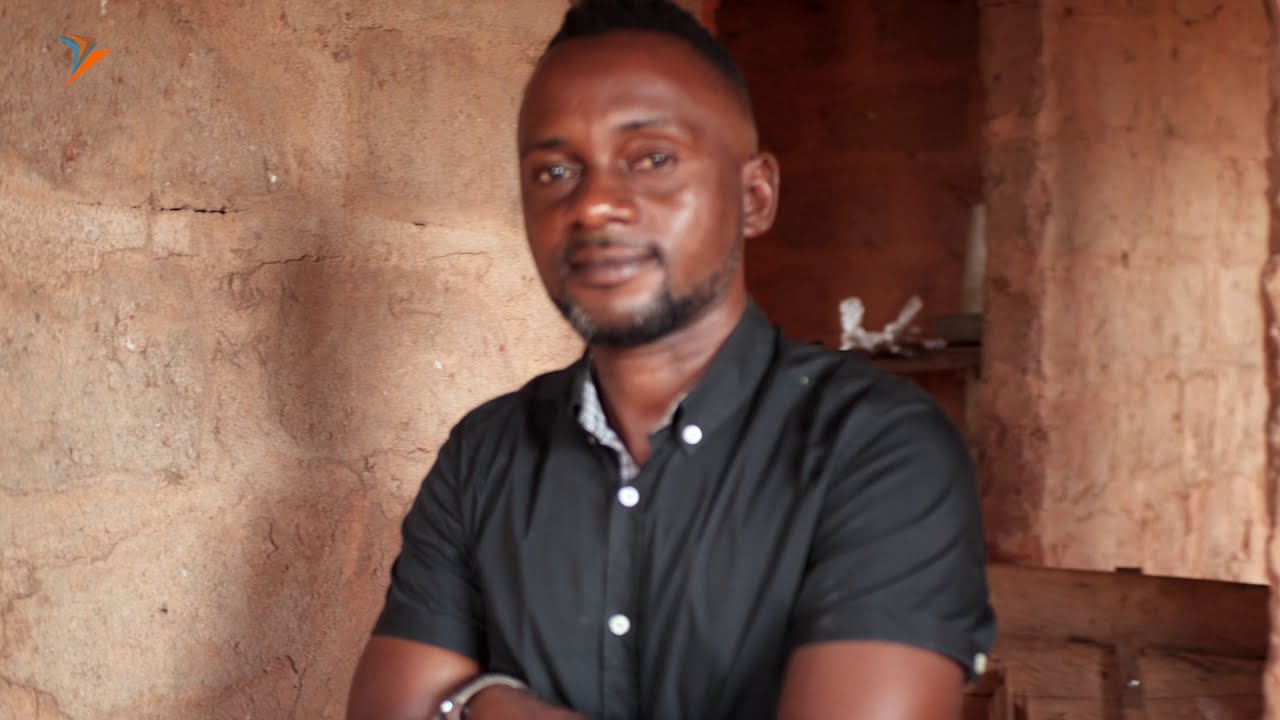 This link opens a YouTube video. Please note the data protection regulations vaid for this site.
Confirm
Successful with a chicken farm
I now live with my family in Nigeria again and raise poultry. You can make it here too.
To the video >