German Information Centre on Migration, Training and Employment (DIMAK)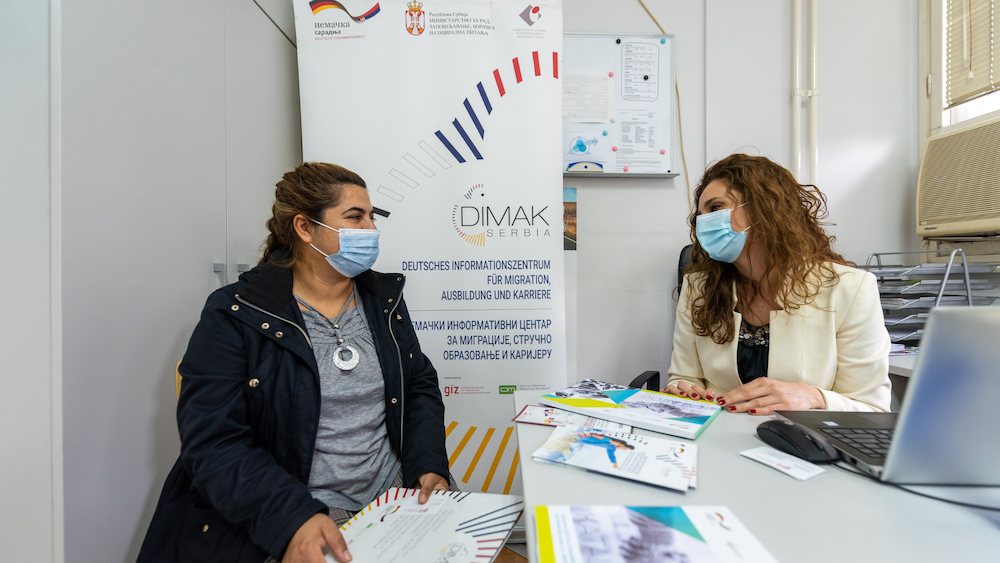 The "German Information Centre for Migration, Training and Employment" in Belgrade helps returnees from Germany and other countries to reintegrate socially and economically into life in Serbia. The centre also advises locals about the new career opportunities in their own country.
DIMAK provides advice and support and its topics include:
Return and reintegration
Vocational guidance and job hunting in Serbia
Starting a business in Serbia
Vocational qualifications and training
Psychosocial support
We offer you individual advice in our DIMAK offices, by phone or via WhatsApp, e-mail or Facebook Messenger. Please arrange an appointment for advice either in person or by phone. This enables us to plan enough time for you and your questions. All our advice services are free of charge.
DIMAK also works closely with the National Employment Service in Serbia and its migration service centres in Belgrade, Niš, Novi Sad, Novi Pazar, Kruševac, Kraljevo and Bor. Our centre also takes part in job and careers fairs that are held across the country. These events are organised by the employment service and exist to match jobseekers with employers in Serbia.
DIMAK also cooperates with various district and national institutions, civic organisations, initiatives and projects. We can therefore offer a comprehensive advice service. Our partners include:
The Ministry of Labour, Employment, Veterans and Social Policy of the Republic of Serbia
The Serbian National Employment Service
The Commissariat for Refugees and Migration of the Republic of Serbia (KIRS)
The Serbian Chamber of Commerce and the German-Serbian Chamber of Commerce (AHK Serbia)
News from our Facebook page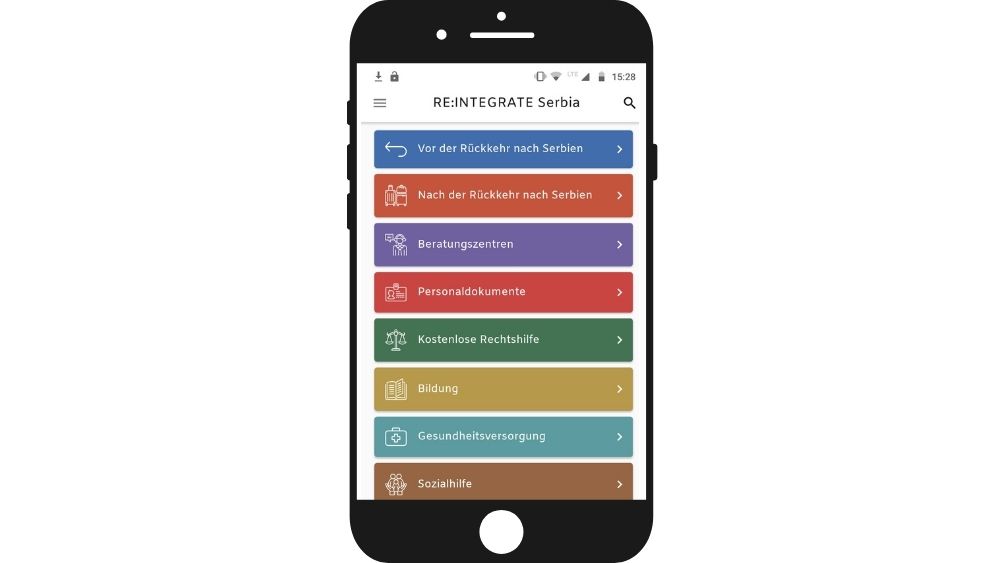 An app for new opportunities
Among other things, you can use the RE:INTEGRATE Serbia app to discover what opportunities the programme offers in Serbia. There you'll see an overview of all the services offered by the German Information Centre on Migration, Vocational Training and Career (DIMAK) and its partners. DIMAK is the first point of contact for all questions relating to Returning to New Opportunities.
This free app is available via Google Play.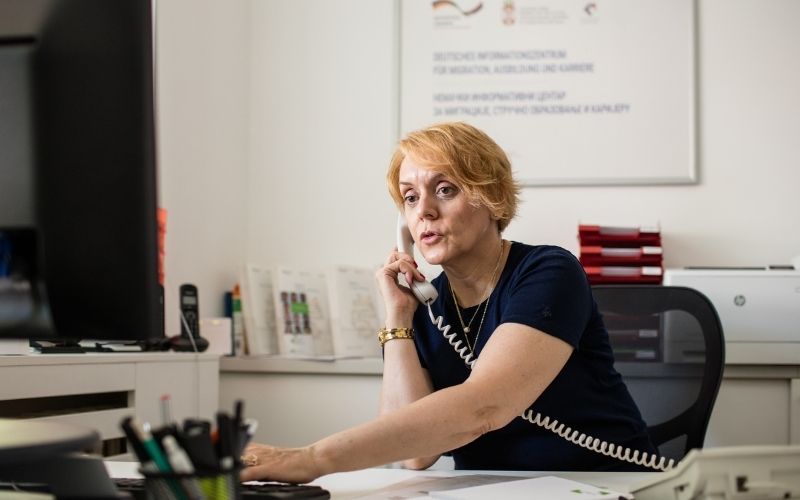 "These people's problems are also my problems"
Tamara Vučenović is an advisor at the German Information Centre on Migration, Training and Employment (DIMAK) in Serbia. She assists returnees to come back to their country of origin and build new prospects for themselves there. In addition to returnees, DIMAK target group also includes both the local population and internally displaced persons.
Learn more about our work here. >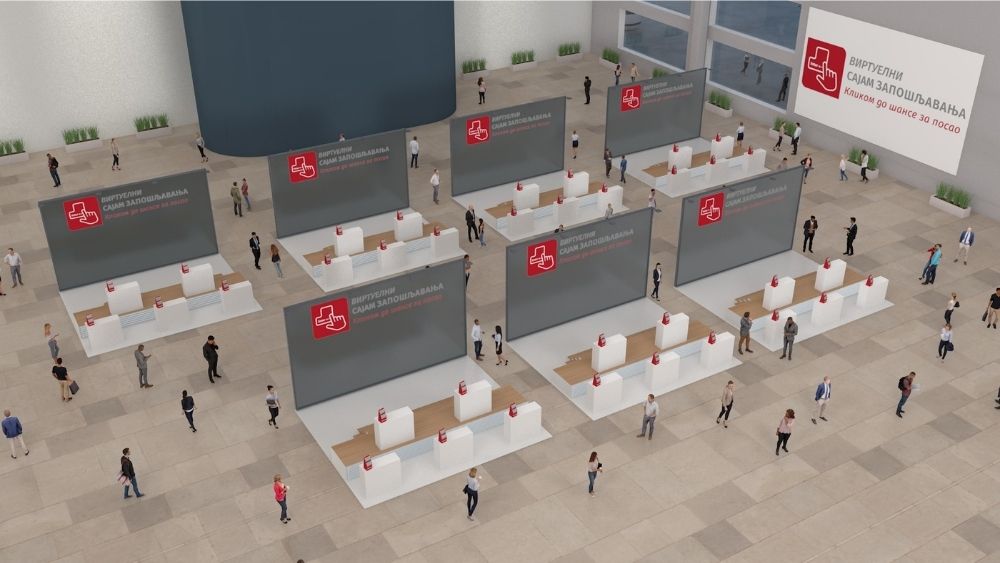 The first virtual job fair was a great success
Around 7,500 participants meant that the network meeting was fully booked. The numerous services offered at the job fair included three online seminars on topics such as "My rights when establishing a working relationship".
Read more. >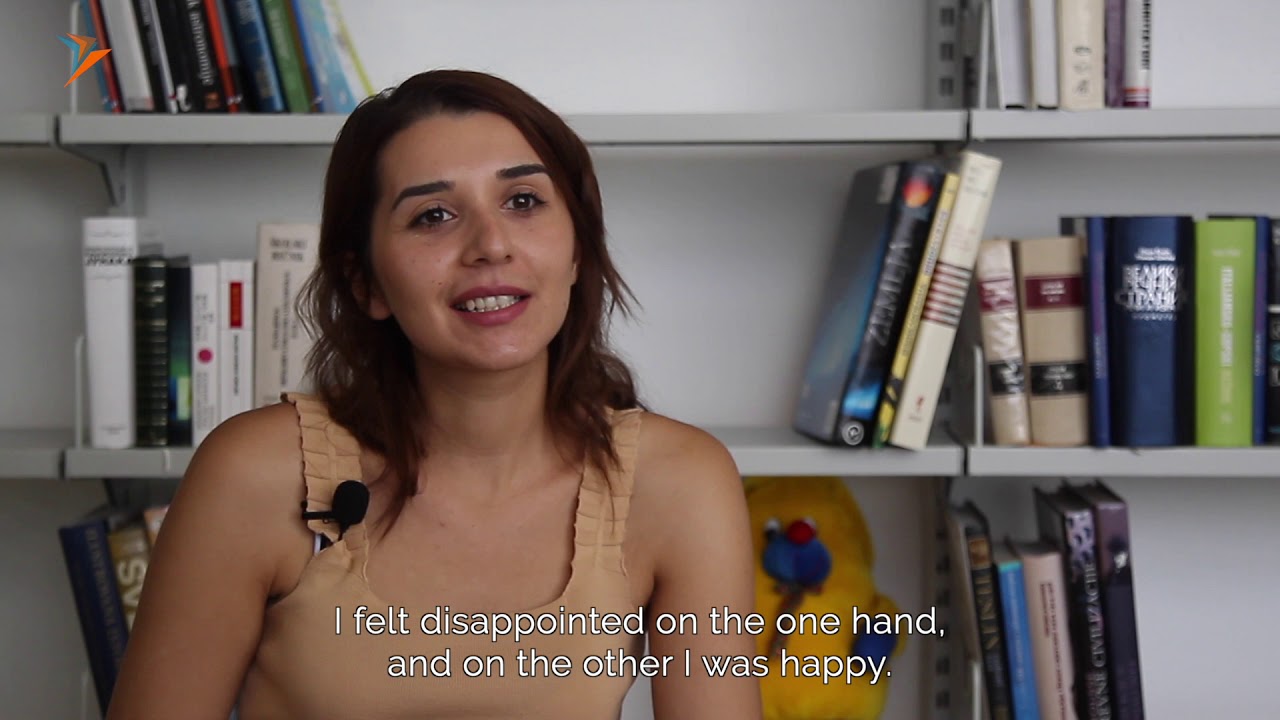 This link opens a YouTube video. Please note the data protection regulations vaid for this site.
Confirm
My name is Zagorka. I'm 28 years old and live in Knjaževac in Serbia. I am divorced with two children, and I spent a long time trying to establish a life for myself in Germany. But it never really felt like home there. Our asylum application was refused so we came back to Serbia, where a short course training as a beautician has allowed me to gain a foothold in the industry.
More Information >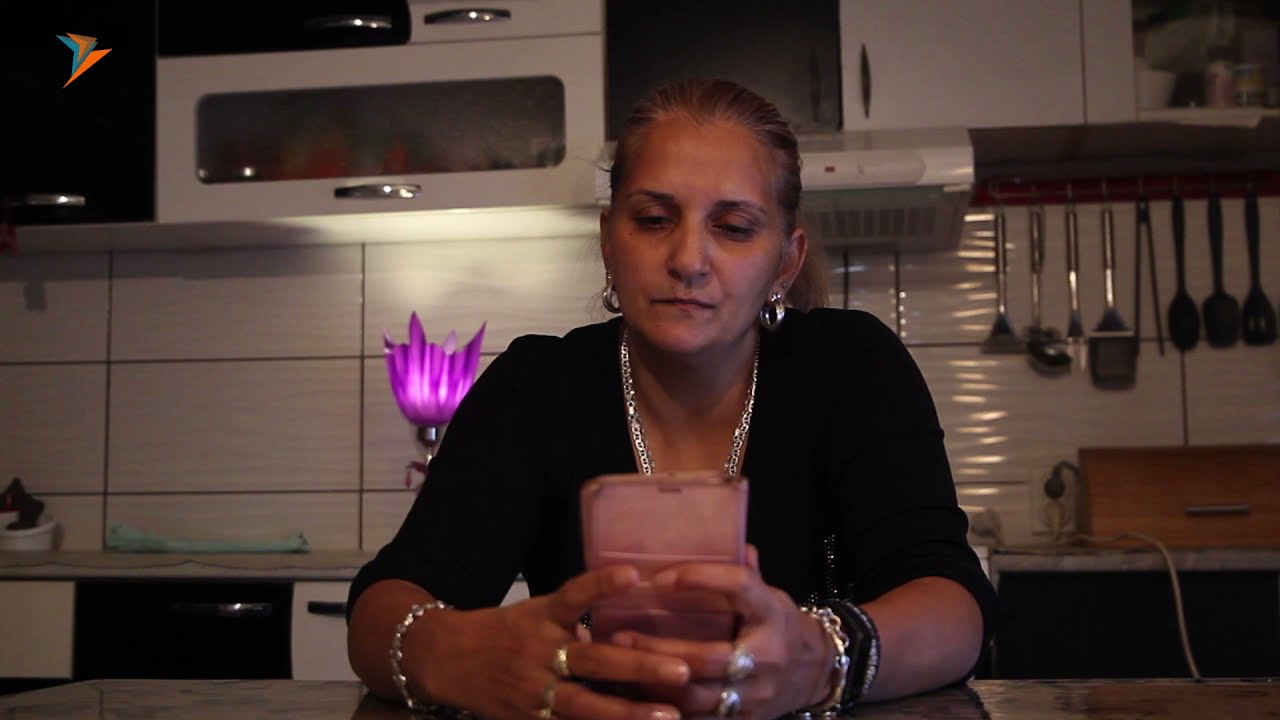 This link opens a YouTube video. Please note the data protection regulations vaid for this site.
Confirm
My name is Marina. I'm married with three children and four grandchildren. My husband and I wanted to build a future for our family in Germany. After three years though, we came back to Serbia. Thanks to the support I've been given I've been able to set up my own business here.
More Information >